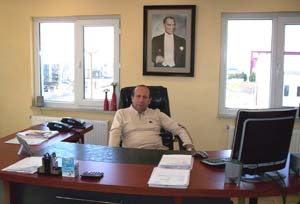 SEM KIMYA BOYA SANAYI VE TIC. LTD.STI. is a leading company established in order to serve in the field of paint auxiliaries was founded in 1988.
To hold our company still and working, focusing on customer satisfaction, we have been dedicated to the manufacturing of high quality products and service with reasonable pricing, which have brought us to the level of competing with the world's leader companies.
Investing on qualified manpower and being aware of the importance of the employee satisfaction, SEM KIMYA BOYA SANAYI VE TIC. LTD.STI. has given priority to the training of its personnel and provided them with the opportunity of engagement within the system; and as a result has continually expanded its manufacturing quality control systems and customer service facilities. Consequently, SEM KIMYA has been certified with ISO 9001:2000 QUALITY MANAGEMENT CERTIFICATE in year 2000.
As the one and only local producer of such broad range of paint additives in Turkey, SEM KIMYA BOYA SANAYI VE TIC. LTD.STI., has this broad range of products by following the foreign developments, information exchange and R&D studies.
R&D studies are executed by combining our own experienced engineers and thriving policy with the cooperation of various R & D institutes, universities, and foreign based companies.
R&D and QC departments are assembled to meet all the demands of the customers and to be a reliable supplier, who can deliver a real-time response quality and standart products with fast and dependable solutions.
Our company with the 2000 tons/year production rate, decreases the dependence on foreign sources and supports the Turkish Economy by the exports, is established in Tuzla Kimyacilar Organize Sanayi Bolgesi.
We are willing to increase marketing activities in paint raw materials with Turkuaz Kimya Sanayi Tic. Ltd. Sti. which we established in year 2004.